Home
>
Conferences
> Principles of Adhesion to Take Your Practice to the Next Level – In Person Course
Principles of Adhesion to Take Your Practice to the Next Level – In Person Course
Feb 12, 2021 |
Anderson
,
California
Organized by :
Northern California Dental Society (NCDS)
Principles of Adhesion to Take Your Practice to the Next Level is organized by Northern California Dental Society (NCDS) and will be held on Feb 12, 2021 at Gaia Hotel & Spa Redding, Ascend Hotel Collection, Anderson, California, United States of America.
Description:
Dentists are faced with many challenges when implementing adhesive dentistry into their day to day direct and indirect restorations. Dr. Schmedding's lecture will include the most recent information on bonding agents as well as utilization of bulk fill materials to help achieve predictable results in a time-saving manner. Cementation protocols of non-metal-based indirect restorations will be discussed to help alleviate the confusion that lies between silica-based ceramics and non-silica-based ceramics. Advanced adhesion techniques can be implemented on a daily basis to help improve your outcomes and grow your confidence in minimally invasive dentistry. You will learn:
• The latest bulk fill products and the best utilization
• An understanding of the world of today's ceramics
• Predictable adhesion techniques to take back your practice. Temporization techniques for non-retentive preparations
Additional details will be posted as soon as information is available.
Registration
Registration Type
Last Date
Price
Non-CDA/ADA Member Dentist Fee
11 Feb,2021
USD

235.00

CDA/ADA Member Dentist Fee
11 Feb,2021
USD

135.00

RDA/RDH Other Dental Health Professional Fee
11 Feb,2021
USD

65.00
Plan Your Travel
Reviews Given by People
No Reviews available. Be the first to write a review.
Hotels Near Venue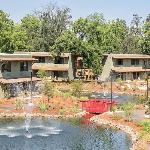 0.12 miles from venue
,
Free Wifi
Price : USD 122.00 Per Night
Subscribe to our Newsletter
x
Subscribe to our newsletter and receive updates on medical conferences, board review courses and news