Substance Abuse Prevention Skills Training (May 18 - 21, 2020)
May 18 - 21, 2020 |
Mackinaw City
,
Michigan
This conference has been CANCELLED.
Substance Abuse Prevention Skills Training is organized by Community Mental Health Association of Michigan (CMHAM) and will be held from May 18 - 21, 2020 at Crown Choice Inn & Suites Lakeview & Waterpark, Mackinaw City, Michigan, United States of America.
Who Should Attend:
Prevention professionals and coalition members from the publicly funded prevention system.
Accreditation:
This course qualifies for a maximum of 18 Continuing Education hours
Description:
SAPST provides an introduction to the fundamentals of substance abuse prevention based on the current knowledge and practice in the field. This training is designed to prepare practitioners to reduce the likelihood of substance abuse and promote well-being among individuals, and within families, workplaces, schools, and communities. While the focus is primarily on preventing alcohol, tobacco, and drug abuse, the approach to prevention presented in this training is applicable to other behavioral health issues as well. The SAPST is a 4-day training that addresses the following primary prevention topics: behavioral health, continuum of care, public health approach, risk and protective factors, developmental perspective, and the Strategic Prevention Framework (SPF). Various interactive activities will help participants to understand the foundation of prevention and the SPF five steps (assessment, capacity, planning, implementation and evaluation plus cultural competence and sustainability) and a community case study will help participants apply the framework components to a community situation. Se flyer below for more details.
Conference Objective:
• Define behavioral health.
• Explain the continuum of care.
• Identify the key characteristics of the public health approach.
• Describe risk and protective factors in multiple contexts and from the developmental perspective.
• Summarize the Strategic Prevention Framework.
• Describe how to assess substance use problems and related behaviors.
Registration Desk
| | |
| --- | --- |
| Contact No. : | (517) 374.6848 |
| Email: | rsheehan@cmham.org |
Plan Your Travel
Reviews Given by People
No Reviews available. Be the first to write a review.
Hotels Near Venue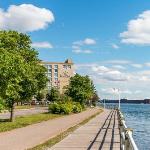 54.22 miles from venue
,
Free Wifi
Price : USD 100.23 Per Night
Subscribe to our Newsletter
x
Subscribe to our newsletter and receive updates on medical conferences, board review courses and news