Medicine in the Mountains 2020
Organized by :
Intrepid Medical Conferences
Medicine in the Mountains 2020 is organized by Intrepid Medical Conferences and will be held from Feb 03 - 06, 2020 at Grand Targhee Resort, Alta, Wyoming, United States of America.
Description:
Medicine in the Mountains 2020 is your practical guide to prehospital urgent and emergency care management of patients in the winter mountain environment.
They keep the numbers small and provide an interactive learning experience in the lecture room and on the snow. You and your colleagues will learn from each other. With plenty of hands-on practical application and time to discuss topics to make sure you get what you need.
You don't have to already be an expert skier, snowboarder or mountaineer to participate: a medical person with a passion for the outdoors is all that is required!!
And it's not just about the learning! You want to be able to kick back and enjoy all the beauty that the mountains provide. So there is ample time to network and connect with others both on and off the slopes. Partners are always made welcome to come along and join in with all of your social events.
All of this at the beautiful Grand Targhee Ski Resort.
Additional details will be posted as soon as they are available.
Plan Your Travel
Reviews Given by People
No Reviews available. Be the first to write a review.
Hotels Near Venue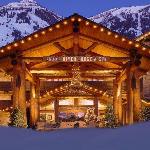 15.09 miles from venue
Price : USD 247.20 Per Night
Subscribe to our Newsletter
x
Subscribe to our newsletter and receive updates on medical conferences, board review courses and news