Home
>
Conferences
> Skin, Bones, Hearts & Private Parts - Pensacola Beach, FL (Sep 10 - 13, 2019)
Skin, Bones, Hearts & Private Parts - Pensacola Beach, FL (Sep 10 - 13, 2019)
Sep 10 07:00 AM - Sep 13 04:00 PM, 2019 |
Pensacola Beach
,
Florida
Skin, Bones, Hearts & Private Parts is organized by Dillehay Management Group (DMG), Inc. and will be held from Sep 10 - 13, 2019 at Hilton Pensacola Beach, Pensacola Beach, Florida, United States of America. This CME Conference has been approved for a maximum of 26 CME Credits.
Skin, Bones, Hearts & Private Parts is a leading provider of high-quality CME covering Dermatology, Orthopedics, Cardiology, Emergency Medicine, and Women's Health. Enhance your medical education with 4 days of CME from passionate speakers that inspire attendees. This CME conference is a great way to network with medical industry peers and learn in an intimate group setting.
Additional details will be posted as soon as they are available.
Registration Desk
Contact No. :
7706401022


Email:

lynne@dillehaymgt.com
info@dmgcme.com

Plan Your Travel
Reviews Given by People
No Reviews available. Be the first to write a review.
Hotels Near Venue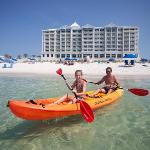 0.48 miles from venue
Price : USD 252.00 Per Night
Subscribe to our Newsletter
x
Subscribe to our newsletter and receive updates on medical conferences, board review courses and news