Hands-on Digital Breast Tomosynthesis Training Workshop
Conference Summary
Hands-on Digital Breast Tomosynthesis Training Workshop is organized by Medical Technology Management Institute (MTMI) and will be held from Mar 23 - 24, 2019 at Christine E. Lynn Women's Health & Wellness Institute, Boca Raton, Florida, United States of America.
The target audience for this medical event is designed for medical physicists to satisfy the 8 hour training required by MQSA for DBT units before performing surveys and QC and 3 hours of Stereotactic credit. Others interested in obtaining this training would include medical physics graduate students and residents, physics assistants, technologists, state and federal mammography facility inspectors and others. This CME Conference has been approved for a maximum of 13.25 hours of continuing education.
Workshop Format:
This DBT workshop is comprised of didactic lecture and hands-on workshops. Attendees will be assigned to small groups and rotate through the hands-on labs. Eight lab sessions will be facilitated by faculty members and will be conducted on GE Essential and GE Pristina Units including Stereotactic add-ons.
Description:
Digital breast tomosynthesis (DBT) provides planar images of the breast without over and under lying tis­sue thus reducing false positives and improving diagnostic accuracy. Un­der MQSA rules, DBT is considered a new modality and requires 8 hours of training in the new mammographic modality. While the FDA recognizes there are some features that are unique to each specific DBT system, personnel need only to obtain training on one DBT system, or general DBT training, to meet the new modality training requirements before participation in the surveying and QC of these units.
This program includes over 8 hours of training on DBT, 3 hours on stereotactic breast biopsy and covers the unique features of the FDA approved Digital Breast Tomosynthesis systems. The hands-on sessions will include covering the DBT manufacturer specific QC, the ACR quality control programs and performance testing for stereotactic add-ons systems for the GE Essential and Pristina DBT units.
Educational Objectives:
The educational objectives of this program are to:
• Understand the techniques for collecting tomosynthesis performance data.
• Appreciate the unit and detector performance
• Review the clinical advantages of DBT.
• Understand the role of DBT in screening and diagnostic applications
• Understand the factors affecting in plane and depth resolution of DBT
• Participate in the performing the approved QC tests on the GE Essential and GE Pristina DBT units including the stereotactic add on systems.
• Understand the data reporting procedures & interpretation of the QC tests.
• Review the operation and use of stereotactic add on systems for the GE essential Ge Pristina DBT units.
• Review complimentary imaging modalities and clinical indications for use.
Contact Us
Toll free Number
1(800) 826-2059
Email
support@eMedEvents.com
Hotels Near Venue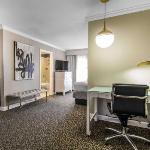 Price : USD 194.00 Per Night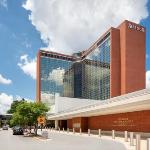 Price : USD 168.32 Per Night
Recommended
| CNE : 38 | Infectious Disease +1
| CNE : 20 | Infectious Disease +1
| CNE : 18 | Infectious Disease +1
Browse CME / CE Conferences by Specialty
View All